Nuts and Dried Fruit Gift Basket | DIY Gift Ideas
With Christmas just around the corner, now is the time to start thinking about what to give to everyone on your list.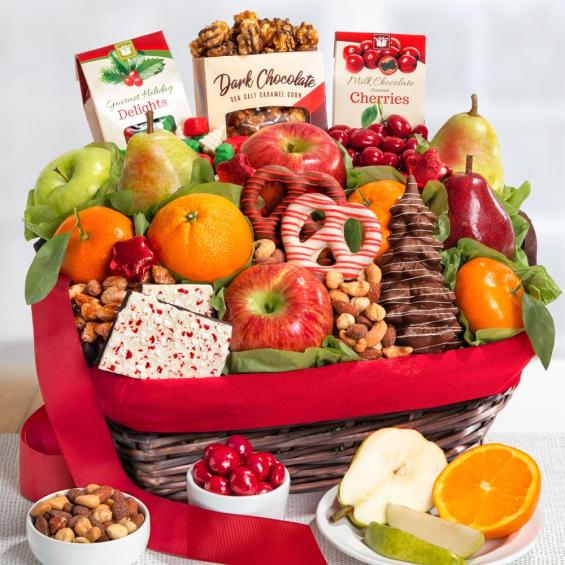 DIY Gifts
When planning out what to get for everyone on your making sure everyone is covered, purchases are made, gifts are wrapped, and that they all get delivered can be quite the feat. The trickiest part is often figuring out what to get without breaking the bank, seeming impersonal, or the nightmare of giving the dreaded "bad gift." 
Gift ideas range from the funny (like this custom-made pillow with your face on it) to the awful and potentially insulting (like a nose hair trimmer) all the way to the absolutely ridiculous (like this Spanish village that showed up on Gwyneth Paltrow's gift guide). Figuring out a thoughtful gift for everyone who deserves one can be daunting. Luckily there's an easy solution: 
Gift baskets full of mixed dried fruit and nuts are the perfect DIY Christmas gift idea.
Homemade gifts can be a great idea. You have complete control over what you give, how much you're spending, how elaborate each one is, and have the ability to customize each gift to its recipient. They're also a great way to be able to accommodate any allergies, diet restrictions, or preferences.
The issue with DIY gifts is they can often be complicated. Trips to the craft store, checking Pinterest many times to make sure you're keeping it correctly crafty, eventually giving up and ordering something on Amazon Prime are scenarios that you may have encountered. 
Enter dried fruit and nut gift baskets.
Why DIY Gift Baskets are a Great Gift Idea
Gift baskets, especially do-it-yourself gift baskets, are a perfect option for anyone who needs to give gifts during the holiday season (or really any time of the year, thanks to their versatility). When it comes to easy, affordable, personalized presents for those you love (or, let's be real, those you feel obligated to give something to), gift baskets can't be beaten. 
Traditional Christmas fruit gift baskets are full of fresh fruits and typically include fruits like pears, apples, and oranges. The bright colors and delicious scents of mixed fruits are definitely appealing, but being perfectly honest: fruit baskets can be ridiculously expensive and don't last very long. 
Check out this tiny Christmas fruit gift basket from Harry & David.
While the packaging is lovely and the fruit looks nice, this treat will not last very long. It is not customizable to your recipient's tastes and preferences, and at this high of a price, it is too expensive for a lot of people to fulfill their shopping lists. 
By creating your own gift baskets with the best dried fruit, not only are you able to create something customizable for all of your recipients but you also know that your gifts will also stretch further for everyone on your list. 
In addition, how customizable these DIY gifts are means you can easily take care of anyone you know who has dietary restrictions, allergies, or specific preferences. Even those who need gluten-free treats are taken care of when you make sure to choose certified gluten-free dried fruits and certified gluten-free nuts.
Who Should Get a Gift Basket 
It is easy to forget about giving to the people who make our lives easier all year long. However, etiquette experts and your conscience alike recommend that you make sure to include those who give vital services throughout the year and take into account how often you see, visit, or interact with them.
Gifts, whether they're DIY gifts or not, for teachers, housekeepers, maintenance people, mail persons, hairstylists, or anyone who has gone above and beyond for you this year are appreciated. Everyone enjoys a little something to let them know they're important to you. Christmas fruit baskets and small tips when appropriate are a perfect way to let these people in your life know you appreciate their services. 
Eight out of ten people recently told a survey that they regularly give holiday tips. However, figuring out how much to give, and what to give to whom, can be extremely confusing. Etiquette experts recommend that the first thing you should consider when giving out tokens of appreciation is your budget and how much you can realistically give. It's the thought that counts, as we've all heard a million times before, so whoever you're giving a gift to will more than likely just appreciate that you thought of them.
From there, you can think about how much the person does for you throughout the year. As many professions including teachers and mail carriers cannot accept money, personalized gift baskets with edible goodies make a great gift choice. Some mixed fruit, an assortment of nuts, and a fun tin of hot cocoa can go a long way in letting someone know what they mean to you. DIY gifts like this show an appreciation for what that person does year-round as a community member, service provider, individual, or friend. As a bonus, if you know them well enough, you can include things you know they enjoy.
If your child's teacher loves pens, throw a nice gel pen or two into your DIY Christmas gift basket. Maybe your mailman enjoys a good movie night. Grab a few bags of microwave popcorn and sort them in among the dry fruits and nuts. 
Teacher Appreciation Gifts
Teachers are often the most-shopped-for person in a family's life, and they tend to get the same few items over and over again. Teacher gifts usually include cutesy mugs, knickknacks, and socks from their students. Hardworking educators will smile and say thank you for anything your child happily puts on their desks. However, why not switch it up this year for the holidays or teacher appreciation week with some items you know they might actually enjoy with a customized teacher gift basket? 
There are many homemade teacher appreciation gifts that hardworking women and men in the classroom would love to receive. Many teachers, unfortunately, do not have enough time for proper snacks and lunch, so why not throw in some healthy snacking options like dried pineapple for a quick energy boost or a handful of nutrient-packed almonds (we even carry delicious smokehouse almonds for a yummy punch of both flavor and protein)?
In addition, many teachers report they also love getting self-care items like lotions and bath bombs for a spa gift basket. While this is only optional, you could add in a gift card to a basket if you have the funds to spare as a teacher gift idea. Perhaps your favorite teacher would like to visit their favorite ice cream shop in the summer and you could pay for a cone? The possibilities are endless. 
Gifts for Those in the Office
You know your coworker almost better than your own spouse, significant others, or family members some days. You also know that they tend to forget their lunch, decide to go without, and bottom-out around 3 p.m. each and every day from hunger. Consider building them a basket with a good source of protein and nutrients that will not leave them attempting to raid the office fridge every afternoon in a feeble attempt to find a snack. If said coworker happens to be your boss, putting together a great gift like a DIY gift basket could mean that promotion you were looking at is bound to be yours by after the New Year. 
Customizable gift baskets are also a fantastic idea for corporate partners. With the ability to mass-produce and send them at an affordable rate that makes great sense for any company, they can be customized to any client or situation depending on the gift tag and a few personalized items. Branded coffee mugs, a mousepad or two, and even a box of chocolates for that extra special client go a long way in building long-lasting relationships.
Whether you're looking for the perfect business referral gift, client appreciation token, contract closing favor, realtor happy, or more, you can create any statement with a customized, DIY gift basket. Treat your clients and customers to the health benefits of the finest gourmet nuts and dried fruits for a tasty, delicious, healthy treat that everyone can get behind.   
Do you play the white elephant gift exchange game during the holidays? Also known as "Dirty Santa" or "Yankee Swap", it involves the practice of exchanging highly impractical, amusing gifts in a quest to gain one sought-after item. The phrase "white elephant" is said to have come from the King of Siam (now Thailand), who gave rare albino elephants as a gift to those who had made him, as the elephants were very expensive to look after.
 While we do not condone give away the practice of giving away live and endangered animals, there is something to be said in the fun of attempting to attain a great gift. Personalized gift baskets are often very sought-after items in games like this, especially when they are filled with delicious snacks and specialty items. They especially beat the old pair of socks or rubber chicken you could go home with instead. 
DIY gift baskets are great ways to share favorite snacks, treats, and memories, and no one appreciates mementos and small gifts like your family. With DIY gift baskets, you can customize to ensure that Grandma gets the dried fruit she so craves, your mom has the pistachios she loves to share with her coworkers, and that you throw a tie into your dad's basket. 
With a customized, DIY gift basket for each family member, there is uniqueness in each basket that is lost when you just order them the first electronic you see online or something of the like. This way, each family member feels seen, cherished, and knows you thought about their tastes, health, and happiness for the new year. 
Pros of Gift Baskets 
Gift baskets are excellent because they seem to fit every possible occasion.
Whether you need a corporate gift for an important client coming in for a large contract signing, or you need a hostess gift for a party, there is always a reason to make and distribute customized, DIY gift baskets. Plus, for business clients and those persons you do not know too well on a day-to-day basis, they have the ability to be generic enough gifts without seeming too impersonal. 
Gift baskets are completely easy to customize and tailor to the tastes of the individuals receiving them.
Whether your recipient is into salty snacks, sweet stuff, self-care items, or the package is for personal or business reasons, gift baskets can be personalized to fit any occasion or individual receiving them. When a person knows a gift is just for them, it's hard to not get a smile from them. 
In addition, when you are able to control exactly what goes in to your nut and fruit gift basket, you can make sure anyone on your list with allergies, gluten-free requirements, dietary restrictions, or special preferences gets exactly what they want and can have. It's always nice to know someone's thinking of you by getting you a gift that fits your needs.
Gift baskets are cost-effective.
Affordability is a key issue with holiday gifts. Fortunately, DIY fruit gift baskets are low-cost when purchased and assembled in bulk. There are many free printables available to help with the decoration of them. They can be scaled up or down, depending on the occasion, budget of the gifter, and person to whom the gift is intended for. 
For example, if the basket is intended for corporate purposes, it may include delicious fruits like dried apricots or mango, gourmet nuts like pecans or pistachios, some corporate materials, and a box of fancy chocolates. If the occasion is a family white elephant gift exchange, then the circumstances are completely different, and the basket could include some dried fruit and nuts, but also a silly gift from the local dollar store. 
Gift baskets make for a fun activity to assemble.
Many people over the holidays' host wrapping parties, so why not host your own gift basket party? Gather up your friends, family, or office coworkers, order some takeout, and assemble some amazing gift baskets for those on your list for some DIY Christmas gift basket ideas. You all can work on an assembly line, throw your own personal touches into the baskets when the time calls for it, and create magical gifts for the season. 
Customized gift baskets are festive, one-of-a-kind gifts that bring a special touch to the holiday season. They are festive, thoughtful presents that show the gifter put a lot of care and effort into a gift for someone. For a personal and thoughtful touch, add an inspirational book you know the recipient would enjoy, or tickets to a game or show you know they have been dying to see. 
Gift baskets are a great photo-op and marketing opportunity.
Let's be honest: if you give your friends, business colleagues, or family members a breathtaking, personalized gift basket, there is a great chance they will want to show it off on Instagram and social media. If the gift basket was for business, this is another great opportunity to gain further exposure for your brand. 
There is always something fresh and unique to offer a friend, family member, or business client. The recipient will also always remember that you care and notice the small things that make them smile, and will look forward to any occasion in which they receive a customized gift basket from you. 
Finally, gift baskets typically do not perish quickly.
Depending on what's in them, and especially with long-lasting ingredients (like pistachos, walnuts, dried mango, or dried figs – figgy pudding, anyone?) and can serve as amazing decorations and promotional opportunities. How exciting is it to see a beautiful gift wrapped up just for you? When your client and their company sees this displayed prominently before getting to their customized package, it's an exciting, relationship-building opportunity for all. 
Gorgeous, festive gourmet nut and dried fruit gift baskets are the perfect DIY gift idea for the coming holiday season.